Jaypee Infratech Ltd. nse: jpinfratec, Share Stocks, Company Details Etc.
The Reddit Blog, 8 months ago
8 min

read
44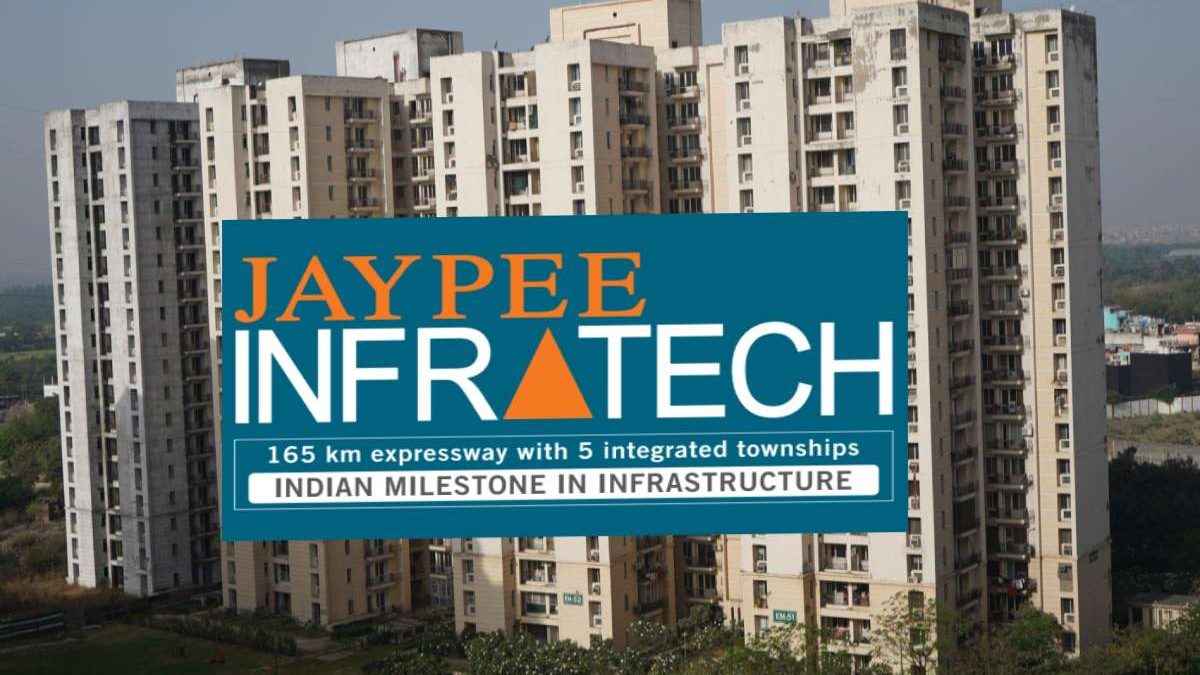 nse: jpinfratec: Jaypee Infratech Ltd is an Indian infrastructure development company. The company is a part of the Jaypee Group. They are engaged in the development of the Yamuna Expressway and related real estate projects. However, The company`s business model consists of earning revenues from traffic and related facilities on the expressway during the 36-year Concession period and development of associated real estate pursuant to the Concession.
The Yamuna Expressway is a 165-kilometre access-controlled six-lane concrete pavement expressway along the Yamuna river, with the potential to be widened to an eight-lane expressway. The company also has the right to develop 25 million square metres (approximately 6,175 acres) of land along the Yamuna Expressway at five locations for residential, commercial, amusement, industrial and institutional purposes. So, The company holds the Concession from the YEA to develop, operate and maintain the Yamuna Expressway in the state of Uttar Pradesh.
The company received the certificate for commencement of business on April 27, 2007. In Oct 2007, Jaiprakash Associates Ltd and Yamuna Expressway Authority assigned the assignment in favour of the company. Also, the holding company Jaiprakash Associates Ltd executed the project transfer agreement in favour of the company.
In Dec 2007, they commenced the construction of Yamuna Expressway, in Nov 2008, the company launched the residential project `Jaypee Greens Klassic` at Noida in Uttar Pradesh. they launched the residential project `Jaypee Greens Kosmos` at Noida in Uttar Pradesh.
In Oct 2009, the company commenced the construction of the Jaypee medical super speciality 450 bed hospital, at Noida, Uttar Pradesh, India. So, In January 2010, `JG Kensington Park (Plots)` at Noida in Uttar Pradesh and in February 2010, they launched the residential project `Jaypee Greens Kensington Park (Apartments)` at Noida in Uttar Pradesh.
Registered Details – nse: jpinfratec – Jaypee Infratech Limited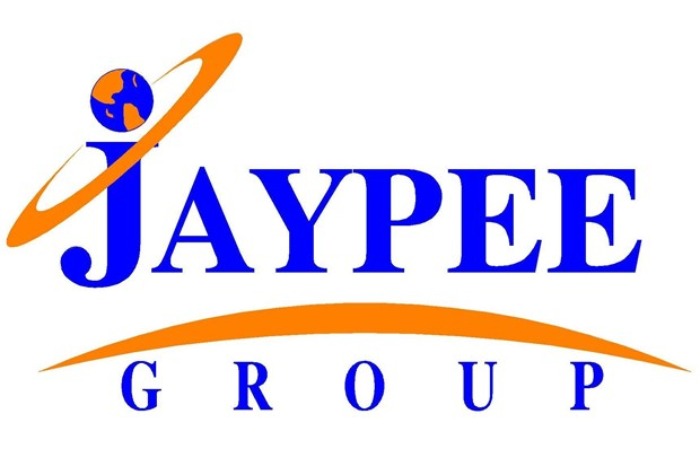 CIN
L45203UP2007PLC033119
INCORPORATION DATE / AGE
05 April, 2007 / 16 yrs
LAST REPORTED AGM DATE
26 September, 2019
AUTHORIZED CAPITAL
INR 300000.0 Lacs
PAIDUP CAPITAL
INR 138893.3497 Lacs
TYPE
Listed Public Company
CATEGORY
Company limited by Shares
SUBCATEGORY
Non-govt company
EMAIL ADDRESS
Login for email address. This is to prevent spam.
WEBSITE
http://www.jaypeeinfratech.com/. (Incorrect website?)
REGISTERED ADDRESS
Sector-128
Noida – 201304
Uttar Pradesh – India
Jaypee Infratech Limited – nse: jpinfratec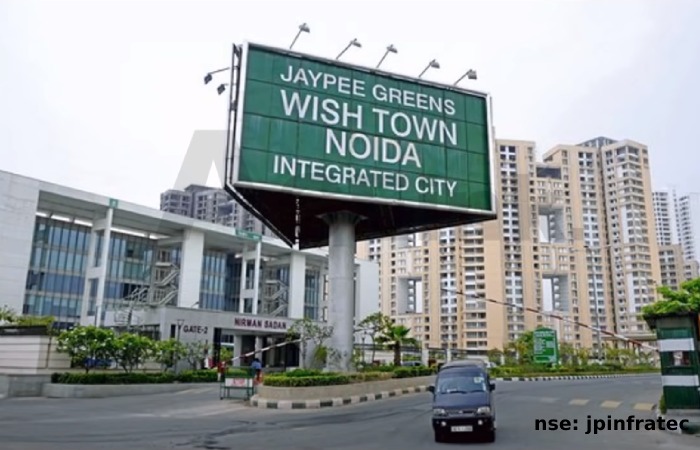 nse: jpinfratec Jaypee Infratech Limited is a Public incorporated on 05 April 2007. It is secret as Non-govt company and is registered at Registrar of Corporations, Kanpur. Its authorized share capital is Rs. 30,000,001,000 and its paid up capital is Rs. 13,889,335,300. It is inolved in Building of complete constructions or parts thereof; civil engineering
Jaypee Infratech Limited's Annual General Meeting (AGM) was last held on 26 September 2019 and as per records from Ministry of Corporate Affairs (MCA), its stability sheet was last filed on 31 March 2019.
Directors of Jaypee Infratech Limited are Rakesh Sharma, Rekha Dixit,.
Jaypee Infratech Limited's Corporate Identification Number is (CIN) L45203UP2007PLC033119 and its registration number is 33119.Its Email address is JPINFRATECH.INVESTOR@JALINDIA.CO.IN and its registered address is Sector-128 Noida UP 201304 IN .
Jaypee Infratech Ltd shares SWOT Analysis
nse: jpinfratec – JPINFRATECSHARE Price
Open     N/A        Change Price      %
High       N/A        1 Day     N/A        N/A
Low        N/A        1 Week N/A        N/A
Close     N/A        1 Month              N/A        N/A
Volume N/A        1 Year   N/A        N/A
52 Week High N/A | 52 Week Low N/A
NSE India Most Active Stocks
RPOWER              12.80     5.35%
YESBANK             15.35     -0.32%
SUZLON               8.05        -0.62%
JPPOWER            6.05        3.42%
IDEA      6.05        -2.42%
TATASTEEL          107.50   -0.09%
ICICIBANK           899.00   0.99%
BCG       15.45     -4.92%
PNB       47.75     1.49%
AUBANK              679.20   17.07%
Jaypee Infratech Ltd Stocks Comparison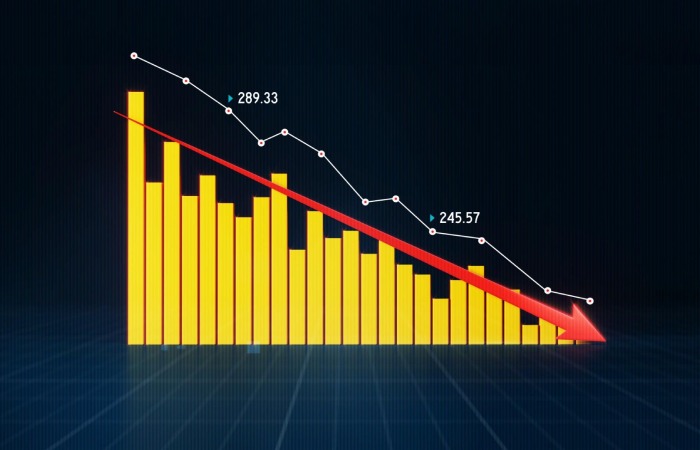 Financials( ₹ in Cr)            Larsen & Toubro               HFCL      Adani Ports         GMR Airports Inf              Jaypee Infratech
Price      2,258.75               63.85     661.65   43.90     1.25
% Change            -1.30      1.03        0.59        0.46        0
Mcap ₹ Cr            3,17,436.59         8,796.98               1,42,925.60         26,497.80             173.62
Revenue TTM ₹ Cr            1,56,521.23         4,727.11               15,934.03             4,600.72               1,065.94
Net Profit TTM ₹ Cr         10,291.05             325.87   4,795.24               -1,131.39              -2,413.46
PE TTM 31.66     29.85     27.61     0.00        0.00
1 Year Return    29.24     -19.23    -21.69    11.42     -56.90
ROCE     11.30     18.77     10.44     0.00        0.00
ROE        13.00     13.82     14.00     0.00        0.
nse: jpinfratec Synopsis Technicals View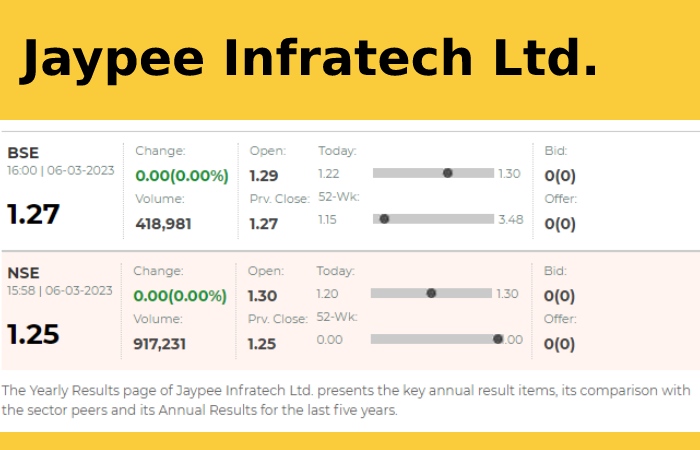 50 Day EMA        Close is Below EMA 50 (Short Term)
Bearish
100 Day EMA     Close is Below EMA 100 (Mid Term)         Bearish
200 Day EMA     Close is Below EMA 200 (Long Term)       Bearish
MACD (12 26 9) MACD Line is Less Then SIGNAL Line        Bearish
RSI (14) RSI is Below 30   Over Sold
MFI (14)               MFI is 71.29        Sideways
CCI (20) CCI is Below -100              Over Sold
WILLIAM %R (14)              William %R is Below -80 Over Sold
ADX (14)               ADX is Above 20 & +DI is Below -DI           Down Trend
PSAR     Stoploss For Short Sell    1.07
10 Day Avg Volume         Traded -43.92 % Less then 10 Day Average Volume.
JAYPEE INFRATECH Revenues
[BOM: 533207|NSE : JPINFRATEC]
Y-o-Y
33.64 %
5 Yr CAGR
10.17 %
Years                    Revenues                       % Change
Mar2022              ₹1,066 Cr                             33.64
Mar2021              ₹798 Cr                               -57.51
Mar2020              ₹1,877 Cr                             16.54
Mar2019              ₹1,611 Cr                             122.61
Mar2018              ₹724 Cr                                225.72
Relative Value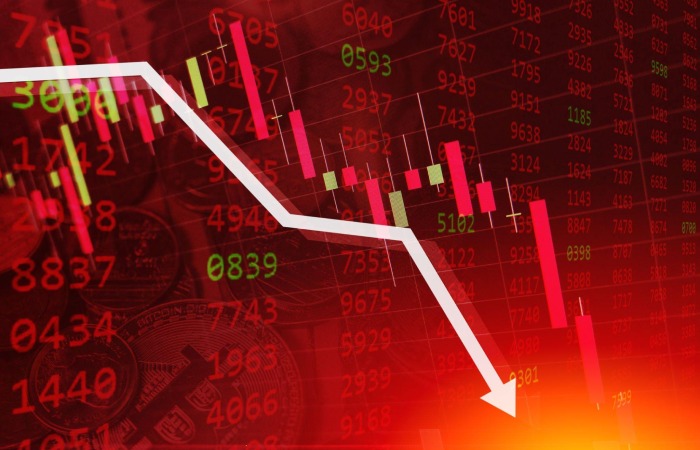 The Relative Value of one  JPINFRATEC stock under the base case scenario is 9.15 INR. Moreover, Compared to the current market price of 1.25 INR, Jaypee Infratech Ltd is undervalued by 86%.
Relative valuation is one of two procedures of hiring a monetary value on a company; the other is Discounted Cash Flow valuation method. We practice a combination of these two methods to calculate the Intrinsic Value of stock as accurately as possible.
Profitability summary
Jaypee Infratech Ltd's profitability score is 56/100. We take all the info about a corporation's profitability (such as its margins, capital efficiency, free cash flow producing ability, and more) and combine it into one single number. The cost-effectiveness score. The higher the productivity score, the more profitable the company is.
Past Growing
In addition, To be successful and continue in business, both growth and profitability are significant and necessary. Net Income growth is frequently seen as a sign of a business's efficiency from an operative standpoint, but is influenced heavily by a company's goals and trials and should therefore be judged in conjunction with other metrics like revenue and operating income growth.
Free Cash Flow
Free -cash flow (FCF) is the cash a business has left over after disbursing its operating expenses and capital expenditures. The more free cash flow a firm has, the more it can assign to dividends, paying down debt, and development opportunities.
If a company has a lessening free cash flow, Moreover, that is not necessarily bad if the company is investing in its growth.
What is the problem with Jaypee Infratech?
Jaypee Infratech Ltd is facing corporate insolvency resolution process (CIRP) since August 2017. In November last year, the National Company Law Tribunal (NCLT) reserved its order on Mumbai-based Suraksha group's bid to acquire Jaypee Infratech Ltd and complete around 20,000 flats for aggrieved homebuyers.1
Jaypee Infra insolvency
NCLT approved the Suraksha cluster's bid to buy Jaypee Infratech Ltd, a growth that comes as a relief for more than 20,000 homebuyers almost six years after the debt-ridden firm entered into the bankruptcy process.
Moreover, The ruling, which came nearly two years after the CoC gave its nod for Suraksha group's offer, will pave the way for the completion of more than 20,000 housing units in various stalled projects of JIL spread mainly across Noida and Greater Noida in the national capital.
However, While passing the order, the tribunal rejected the objections made by Yamuna Expressway Industrial Development Authority (YEIDA). Dissenting financial creditor ICICI Bank and JIL's parent firm Jaiprakash Associates Ltd (JAL).
In its 491-page directive. The NCLT had engaged that JIL will get Rs 542.62 crore out of Rs 750 crore dropped by Jaiprakash Associates Ltd (JAL) in the registry of the Highest Court. while Rs 106.9 crore will go to an escrow account of homebuyers.
Jaypee Infratech Ltd:
1.27
0.00 (0.00 %)
BSE
Open Free Trading Account Online with ICICIDIRECT
Sign up for a New Account
Enter Your Mobile Number
Jaypee Infratech Ltd shares SWOT Analysis
SWOT
TECHNICALS
DEALS
SHAREHOLDING
STRENGTHS (0)
Data not found
WEAKNESS (0)
Data not found
OPPORTUNITY (0)
Data not found
THREATS (0)
Data not found
DISCOVER MORE
FINANCIALS
PROFIT AND LOSS STATEMENT
BALANCE SHEET
QUARTERLY RESULT
RATIO
Sales
Operating Profit
Profit after Tax
DISCOVER MORE
Contact Details
Email ID: JPINFRATECH.INVESTOR@JALINDIA.CO.IN
Website: Click here to add.
Address:
Sector-128 Noida UP 201304 IN
Conclusion:
Adjusted price is showed when the security is experiencing a Corporate Action such as Dividend, Plus, Rights or Face Worth Split. On Trade Action (Ex-date), the %change on is calculated with reverence to the Used to Price.
i-NAV :i-NAV (Revealing NAV) for an ETF is showed as acknowledged from AMCs during each business day.
For securities that undertake call auction in superior pre-open session in case of New/IPO Listings; Re-Listing; Business Action; Surveillance action etc., the % change is intended with respect to symmetry price determined in the session.
Close price will be efficient after 18.15 hrs on explanation of joint press announcement 52 week High/Low: Amounts are adjusted for Business Action such as Extra, Face Charge Split, Rights etc.
Related posts